In some cases, you will have a caregiver who works for multiple agencies. Or, it is possible they previously worked with an agency that utilized CareAcademy. This article will discuss how that impacts both your agency and what the caregiver sees.
When a caregiver logs into their dashboard, they are able to be a part of multiple agencies. If they are currently active at more than one agency, the view will be similar to what is shown below: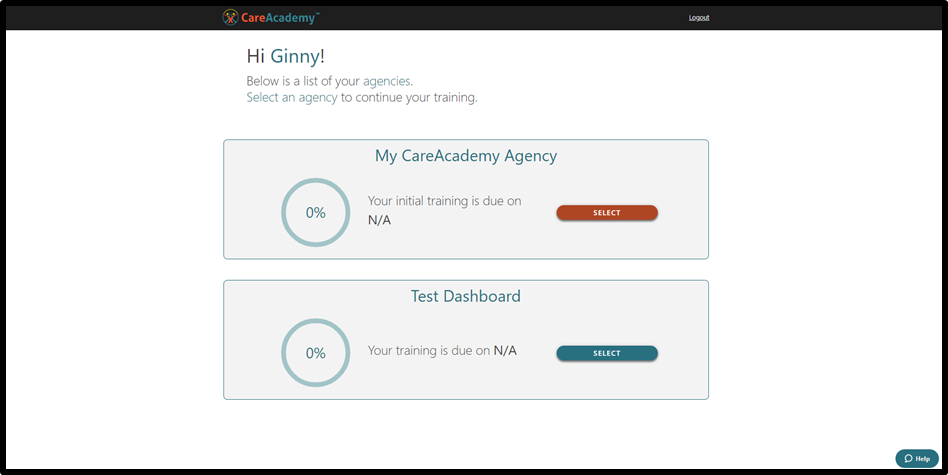 If a caregiver is no longer active with an agency, the Select button will not be available, and a note will appear that they have been deactivated. However, they will always be able to pull the certificates of classes they have completed for that agency.
As an agency administrator, you have the ability to waive classes for a caregiver if they have completed training that meets your agency requirements. In order to do this, a caregiver will need to provide you with their completion certificate(s). We recommend sharing this help article with them so they can print their prior certificates to share with you.
If the certificates are not applicable to the training you require, or a caregiver is unable to provide certificates to you, we recommend having them complete all of your training for compliance purposes.
Although a caregiver might have completed classes in CareAcademy before, your reports and certificates are unique to your agency. Therefore, anything a caregiver completes outside of your agency will not be available on your CareAcademy dashboard or reporting feature.
To learn more about the new caregiver dashboard, check out this video!