The CareAcademy HHA Certification Program uses an innovative, blended training model for training entities to use and certify new home health aides (HHA). The foundation of the program is a competency based curriculum that meets the Center for Medicare and Medicaid Services' (CMS) Conditions of Participation for Home Health Aide Services (42 CFR § 484.80).
*If you are utilizing CareAcademy's approved NJ CHHA program, your syllabus may differ.
What is included with CareAcademy's HHA program?
CareAcademy's HHA training program includes an in-person onboarding session followed by a six-week-long training curriculum. Specifically, it includes:
Curriculum overview including:

59 hours of CareAcademy online classes
16+ hours of in-person training, equally divided across the six weeks.

Week-by-week syllabus
Activity handouts
Skills checklist
End-of-program knowledge exam containing 100 questions divided across 10 topics*
Hands-On-Skills Competency Evaluation guide*
Certification of completion template
*The successful completion of both the knowledge exam and the competency evaluation is required
before qualifying for the HHA certification.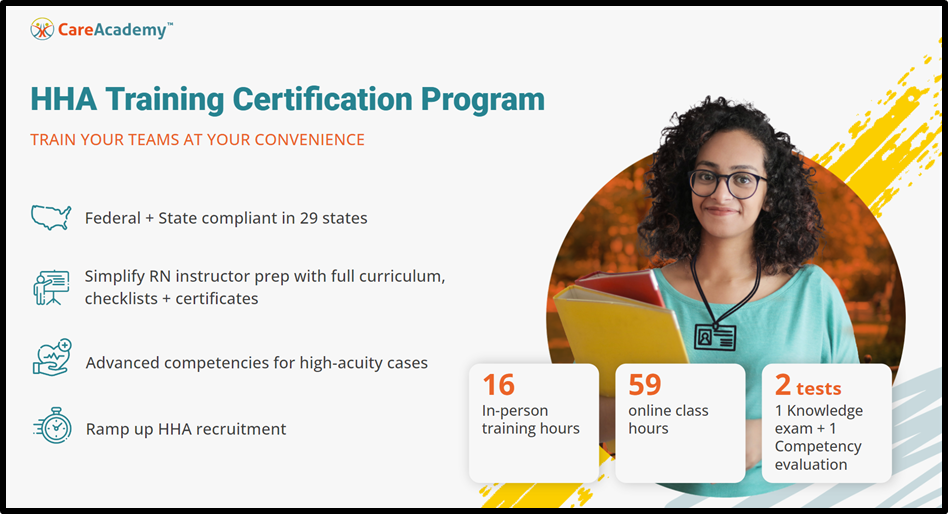 How will I know which topics to cover each week?
The syllabus will break down the following for each week of the program:
Hours of CareAcademy online training + which classes to assign
Hours of in-person training
Focus of in-person training
Hands-on skills practice
Where can I

find the HHA materials to use at my agency?
The HHA program is included for all Business/Complete/Home Health customers. If you are a Business/Complete/Home Health customer, please reach out to our Customer Support team directly, and we will email the materials directly to you.
If you are not a Business/Complete/Home Health customer but are interested in upgrading, please reach out to Customer Support, and we can connect you with a Training Consultant.
How do I assign out the weekly CareAcademy classes?
The weekly CareAcademy classes will be assigned out via class lists that will be created before you start your HHA program. Each class list will include the classes that must be completed for that specific week of the program.
The HHA administrator will bulk assign the necessary class list at the beginning of each week. Click here to learn more about class lists.
Important Note: The HHA program will not utilize the Curriculum tool. The Curriculum track assigned to HHAs will be blank. This will allow for administrators to have full control over assigning the weekly classes via class lists.
How should I use the handouts?
There are two types of handouts in the HHA program - activity handouts and skills checklists. Both are intended for use as part of the 16-hour classroom portion.
Activity handouts -

cover topics that our online classes don't cover but are important to know, or are reinforcement for topics we think are particularly important

Skills handouts - designed

for when students are practicing the skills and are designed as peer review

Since they list the steps for mastering skills, they are useful to students before/during/after the training.
Does this program come with a certificate of completion?
Yes! The program materials contain a certificate of completion (PDF template) that organizations must complete and distribute to their home health aides after they successfully complete the program. Specifically, this certificate can be awarded once the caregiver:
Completes required training
Passes the knowledge check
Demonstrates competency by passing the hands-on skill evaluation