What is CareAcademy's CAREer Path Initiative?
This first-of-its-kind higher-education partnership opens new doors for direct care workers to advance their careers by offering new educational pathways enabled via CareAcademy's online training platform.
Organizations (like yours!) who join the CAREer Path Initiative are now able to offer caregiver training that is eligible for college credits at SNHU to further drive agency recruitment opportunities and career development in home care.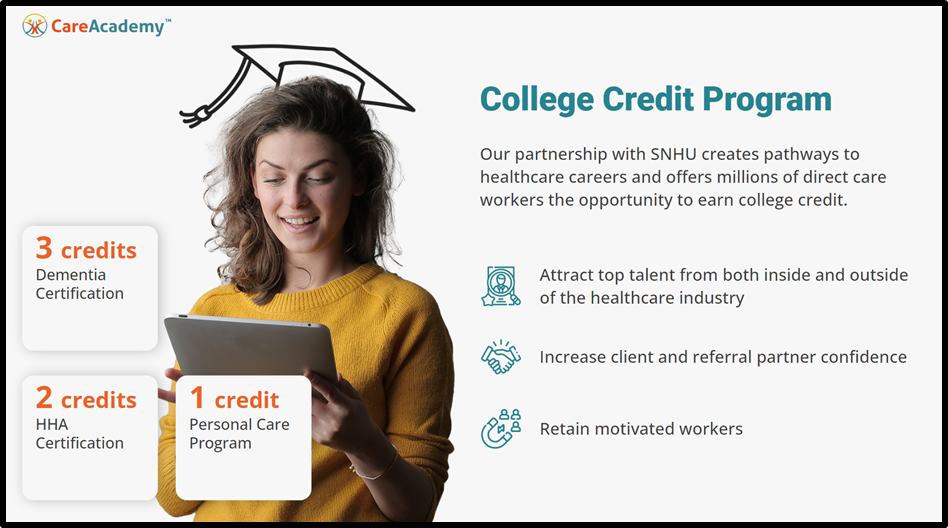 The CAREer Path Initiative by CareAcademy is designed with three goals in mind:
Provide upskilling opportunities for direct care workers to continue to grow their skills and improve their earning potential

Attract new entrants into the direct care profession

Improve career opportunities for those who want to advance their education through a first-of-its-kind partnership with SNHU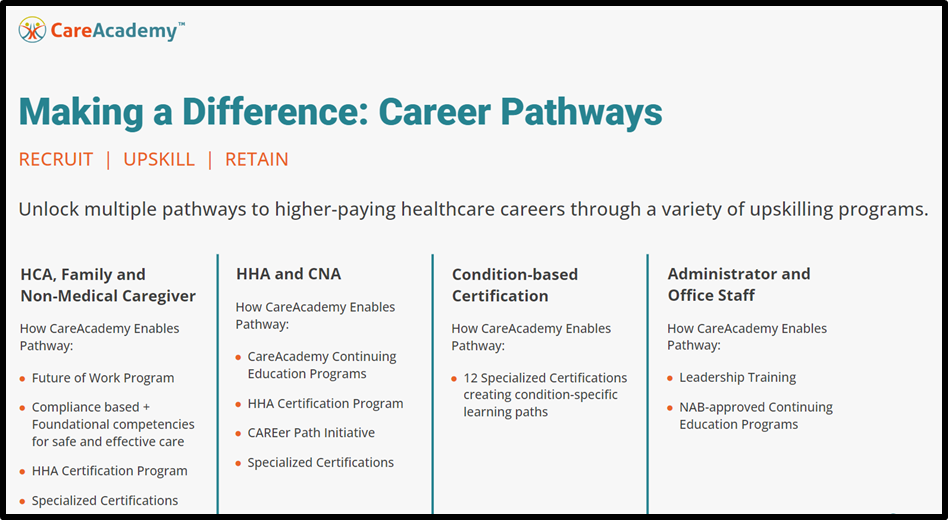 Joining The CAREer Path Initiative
By joining The CAREer Path Initiative, participants are committing to working across the industry to create opportunities for direct care workers, both tenured and new, to advance their skills and to deliver the best possible outcomes for their clients. Organizations who choose to participate should align with and agree to work towards the following:
Actively recruit NEW participants into the profession through their current recruitment programs and offer training to ensure a successful transition to direct care

Encourage direct care staff to continue training by incentivizing the addition of new skills, specialized care certifications, and continuing education

Provide mentorship to both direct care workers interested in expanding their skills and new entrants to the profession to ensure that their career goals are met

Consider offering an education reimbursement program, as well the scheduling flexibility to take classes

Lastly, for CareAcademy customers, extend the CareAcademy college accredited training classes to direct care staff interested in continuing their education journey
How to Join
CareAcademy customers can join by visiting http://www.careacademy.com/careerpath and submitting your organization's information. Then, we'll send you all the information you need to engage your direct care workers about the initiative, how to onboard them into the initiative, and the next steps they'll need to take.
Organizations that want to offer college-credit for their direct care training will need access to CareAcademy's online training. If you're not currently using CareAcademy for your online training, visit the link above and submit your information to inquire about how you can offer this initiative at your agency.
If you've already joined the initiative through the program page and the CareAcademy team has already configured your dashboard with the necessary classes to enroll your caregivers, you can assign the classes to your caregivers as follows:
Log into your CareAcademy dashboard.

Select the caregivers you would like to participate in the program.

Click the "Add Training" button at the top of the caregiver list.

Select the "Class List" tab.

Select on the bundle called "The CAREer Path Initiative" and click the blue "Continue" button in the bottom right corner.

Name the bundle: CAREer Path Initiative Training [VERY IMPORTANT: Make sure to name this training bundle exactly as it's written. This ensures we can track completion and that your your care team will get credit for the classes they complete.]

Click "Enroll".
Once you have enrolled your caregivers, CareAcademy will email them directly with more information.