CareAcademy is excited that eRSP customers can integrate their eRSP and CareAcademy accounts!
What does the integration between CareAcademy and eRSP do?
Organizations that integrate their CareAcademy and eRSP accounts can take advantage of the following features:
Administrators can activate caregivers in CareAcademy directly from their eRSP account individually.
Administrators can choose whether initial or annual training is assigned to caregivers when activating in eRSP.
Administrators can update caregiver profile information in eRSP (name, email, phone number, hire date) that will sync to CareAcademy.
Caregivers can log in to CareAcademy via their eRSP desktop or mobile app (single sign-on).
Our team is continuing to build additional integration features and will expand this list as new features are released.
What do I need before requesting this integration?
CareAcademy paid subscription or free trial
eRSP paid subscription or free trial
Note: Setup is typically completed within one business day of receiving your request. Please be aware that in some cases the CareAcademy team may need to contact you directly to confirm information before the integration can be completed, which may delay implementation. If additional information is required, you will receive an email from our Customer Support team titled "Additional Information Needed to Integrate Your CareAcademy & eRSP Accounts".
How to initiate the eRSP integration:
Step 1: Log into eRSP and click on Setup on the left side of the menu at the top of the dashboard.

Step 2: Select System Defaults from the left side of the dropdown menu

Step 3: Next, select Integrations on the right side of the same menu.

Step 4: Click on the Available Integrations tab.

Step 5: At the bottom of the page, you will see a Caregiver Training integration. On the right side of that line, toggle the switch to ON.

Step 6: Click on the new CareAcademy tab that is now visible at the top of the Integrations page. This is where you'll set up the integration.

Step 7: Check the organization name listed to confirm it matches the company name you have on file with CareAcademy.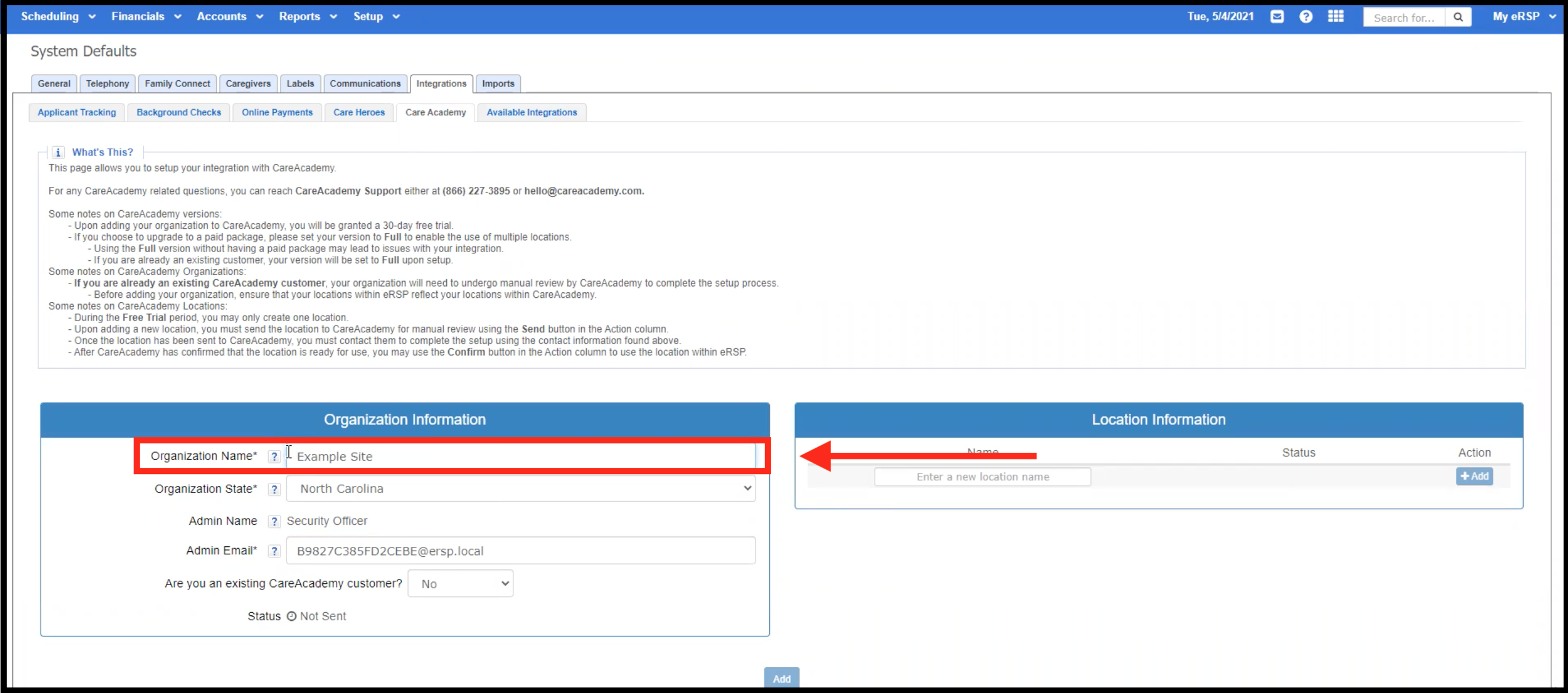 Step 8: Confirm the state listed is the state in which your caregivers operate.

Step 9: Next to the question "Are you an existing CareAcademy customer?" - use the dropdown menu to answer YES.
Note: If you are not a current CareAcademy customer, please view the instructions in this article.

Step 10: In the Location Information Section, add the name(s) of your CareAcademy dashboard(s). Click +Add after typing in each name until all dashboards are listed.
Note: Free trial accounts are only permitted one Location for the course of the free trial.


Step 11: Once all information is reviewed and entered, click the Add button at the bottom of the page to send your integration request to CareAcademy.

Step 12: Once CareAcademy has received your request, our team will begin the process of connecting your accounts.
Already integrated and ready to start adding caregivers from eRSP into CareAcademy? Find instructions on how to add your caregivers here.