Once you have integrated your CareAcademy and AxisCare accounts, you can start adding caregivers to CareAcademy via your AxisCare dashboard.
Not yet integrated? Take a look at our article on how to integrate your CareAcademy and AxisCare accounts.
What does the integration between CareAcademy and AxisCare do?
Organizations that integrate their CareAcademy and AxisCare accounts can take advantage of the following features:
Administrators can activate, deactivate, and reactivate caregivers in CareAcademy directly from their AxisCare account individually.
Administrators can see whether a caregiver is active or deactivated in CareAcademy directly from their AxisCare account.
Administrators can choose whether initial or annual training is assigned to caregivers when activating in AxisCare.
Administrators can update caregiver profile information in AxisCare (name, email, phone number, hire date) that will sync to CareAcademy.
Caregivers can log in to CareAcademy via their AxisCare Mobile App (single sign-on).
Our team is continuing to build additional integration features and will expand this list as new features are released.
How to Add a Caregiver from AxisCare into CareAcademy:
Step 1: Log into AxisCare and navigate to the profile of the caregiver you want to add to CareAcademy.
Step 2: Select the Certifications & Evaluations tab.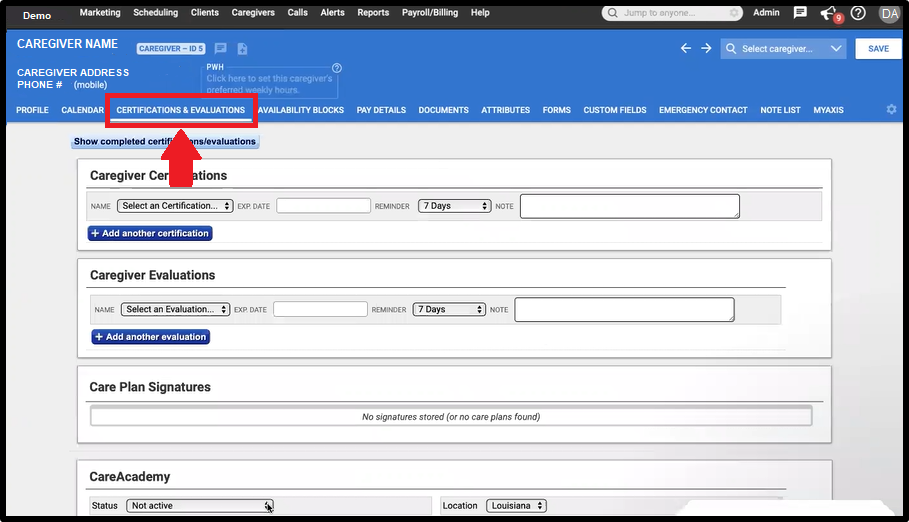 Step 3: Scroll down to the section titled CareAcademy. From the dropdown menu titled Status, change the caregiver's status from Not Active to Active.
Active - Initial Training Required: Selecting this option will automatically enroll the caregiver in the Initial Training classes in your CareAcademy default curriculum.
Active - Annual Training Only: Selecting this option will allow the caregiver to skip the initial training classes in your default curriculum and go straight to annual training. Annual training classes will be assigned based on the due date settings in your CareAcademy dashboard. Want to edit the classes in your curriculum? Check out our help guide.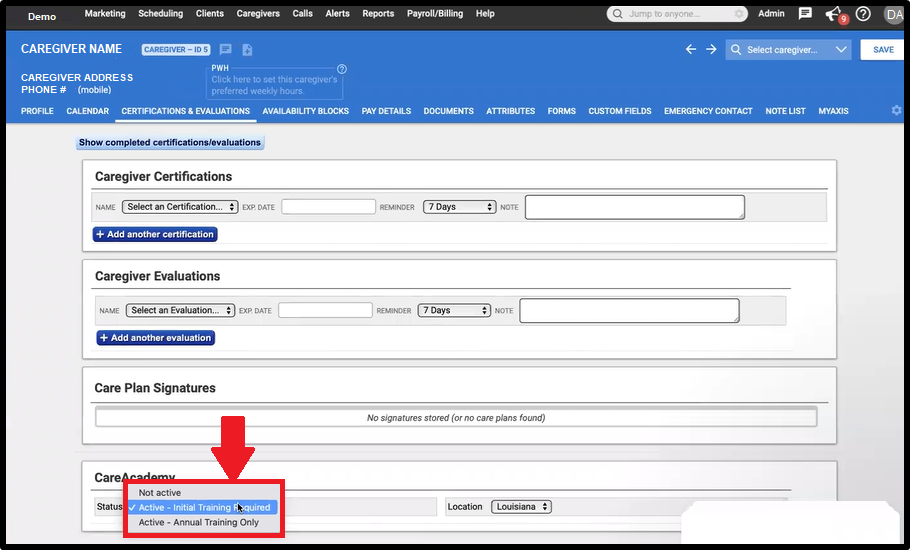 Step 4: Assign a location for this caregiver. If you do not operate multiple locations or do not assign caregivers to a particular location, leave this field set to Default. Then, on the top right corner of the page, click the Save button to finish adding the caregiver to CareAcademy.