CareAcademy dashboard administrators have full access to your agency's dashboard to manage caregiver training. If your organization has multiple CareAcademy dashboards, then a dashboard administrator will only be able to access the respective dashboard(s) that they are granted access to. CareAcademy recommends having 2-3 administrators per dashboard.
CareAcademy makes it simple to add and remove administrators directly from your dashboard. However, we understand this may not be a feature that you would like available to all dashboard administrators. When you sign up for CareAcademy, the administrators will automatically have access to add/remove admins.
Once you access your dashboard, you can edit this access for other admins within the organization.
How to add an administrator:
Step 1: Access the CareAcademy dashboard via go.careacademy.com.
Step 2: Select the "Account" dropdown menu on the upper right and choose the "Agency Administrators" option. Upon selection, you'll be navigated to the "Agency Administrators" page where you can view the current dashboard administrators.

Step 3: Select the "Invite Administrator" button.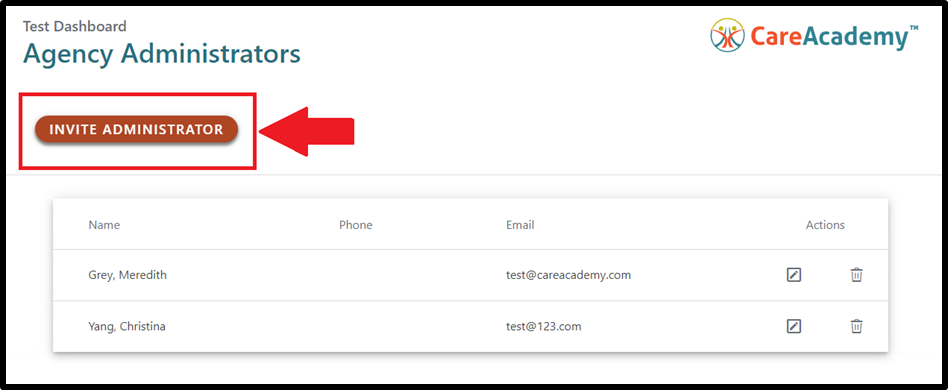 Step 4: Fill in the fields to add your administrator. The fields marked with an asterisk (*) are required. Select the "Invite" button once the form is completed to grant admin access. You may opt to grant another administrator the privilege of adding/removing other administrators.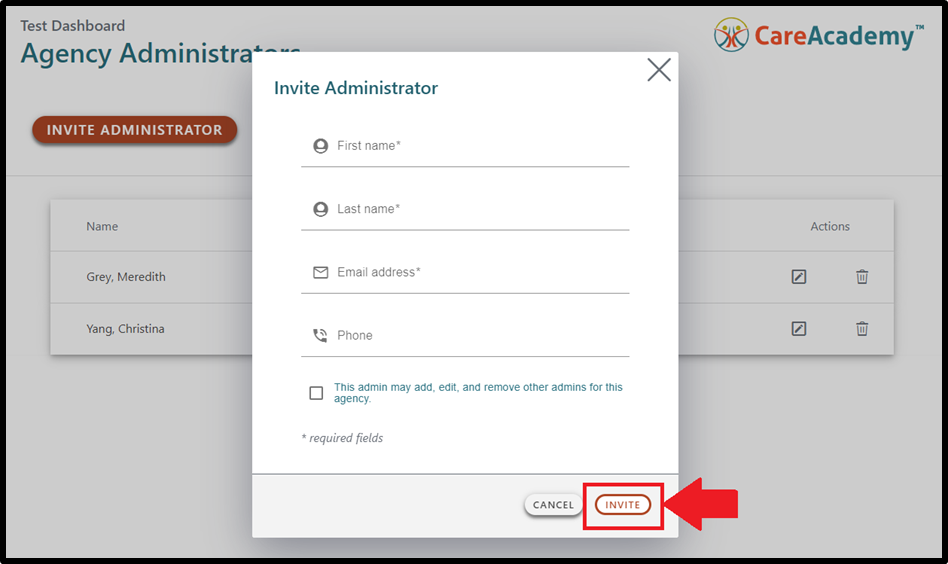 Once this form is submitted, the admin will receive a welcome email and/or text message with login instructions. You will now be able to view this new admin on the "Agency Administrators" page.